The International Society for Landscape, Place, & Materials Culture is pleased to announce the recipients of its 2018 Awards:
W. Frank Ainsley Distinguished Service Award
The Distinguished Service Award is named for the late Dr. W. Franklin Ainsley, who faithfully served as the Society's Secretary-Treasurer for 20 years. This special award is presented only periodically to a Society member in recognition of outstanding service and dedication to the Society. The criteria for this award include membership in the Society for a minimum of 15 years, as well as outstanding service and dedication through committee work, board membership, and/or planning annual meetings. This is only the second time that this award has been given, the first having been in 2012.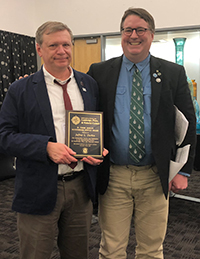 This year's Ainsley Award recipient received his Bachelor of Arts in History at the University of Washington in 1983, and his Master of Arts in History with an emphasis in Historic Preservation from Middle Tennessee State University in 1987. He has worked as a Property Surveyor for the Metropolitan Historical Commission in Nashville, TN; as Regional Historic Preservation Planner for Georgia Southern Area Planning and Development Commission; Historic Preservation Specialist for the Tennessee Department of Transportation; Architectural Historian for the State Archaeologist, University of Iowa; Environmental Coordinator for the Georgia Historic Preservation Division, Department of Natural Resources; Senior Architectural Historian at URS Corporation in Maryland; Historic Preservation Specialist for the Council on Historic Preservation; and since 2010, he has been Section 106 Compliance Officer for the National Park Service.
He joined what was then called the Pioneer America Society in 1991, when Hugh Davidson, one of the other architectural historians at the University of Iowa, encouraged him to attend that year's annual meeting in Milwaukee. He has published articles in Material Culture and PAST, has presented papers at Society meetings on a variety of subjects, including the material culture of makeshift memorials, expressions of mass grief and mourning, the Hudson and Manhattan Railroad, and the Old Dixie Highway. Claudette Stager and Martha Carver, in an article published in PAST, stated that tonight's award recipient, who served as a board member for the Society for Commercial Archaeology, was "key to our success" in their efforts to create a book based on the SCA's 1998 conference. That book, Looking Beyond the Highway: Dixie Roads and Culture, was published in 2007 and included an essay that he contributed on the Dixie Highway in Georgia.
In addition to his presentations and published work in Society venues, he has twice been elected to the Society's Board of Directors, first in 2004 and again in 2012. He joined the Historic Preservation Award Committee in 2007, becoming its chair in 2010 — a position in which he continues to serve. He has also co-managed the Society's Facebook page for several years. In fact, whenever the Society needs something, he always seems to come through for us with the needed information or service.
The Society is very pleased to announce that this year's Frank Ainsley Distinguished Service Award was presented to Jeff Durbin.
Henry H. Douglas Distinguished Service Award
The Award is named in memory of the founder of the Pioneer America Society, today the International Society for Landscape, Place, and Material Culture, Mr. Henry H. Douglas, and is given to an individual who has made significant contributions over the years to furthering the Society's goals through service, teaching, publications, and/or the promotion of historic preservation.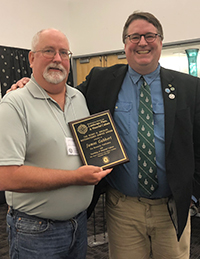 This year's Douglas Award recipient received his Bachelor of Arts in History and Geography from Indiana University, and his Master of Science in Historic Preservation from Eastern Michigan University. He has built his career on the identification, evaluation, and documentation of historic resources — first at the non-profit Historic Landmarks Foundation of Indiana, then at the Oklahoma State Historic Preservation Office where he coordinated the National Register of Historic Places, Survey and Inventory, and Section 106 programs. Since 2007 he has been an historian in the National Park Service's National Register of Historic Places program.
Several years ago, responding to a reporter for the Rutland Herald in Vermont, he stated that for him, Society conferences are "almost purely learning. In my job I'm exposed to historic resources of all kinds. The focus of this group is to look at the built environment, the material culture left by people." While it may be true that he sees Society conferences as opportunities for learning, one cannot understate his contributions to the education of others. He has generously coordinated and led National Register of Historic Places workshops at several conferences beginning in 2010. He has presented papers on subjects as varied as golf in the Midwest, the modern (and modernist) philosophy of the Bacardi Corporation, and the Chilocco Indian Agricultural School in Oklahoma as a reflection of federal Indian policy — the last-named of which was published in PAST. He has published book reviews in Material Culture, and a windshield survey of McLoud, Oklahoma. He is the star of an excellent 18-part series of short films, entitled "National Register Guide," created by the Preservation Nation blog and posted on the web site of the National Trust for Historic Preservation. In addition to hosting and planning the Society's 2014 Oklahoma City conference, he has served the organization as a member of the Historic Preservation Award Committee, Warren E. Roberts Award Committee, and the Conference Advisory Committee, and has twice served on the Society's Board of Directors.
On behalf of the committee, we are pleased to announce that this year's Henry H. Douglas Distinguished Service Award was presented to Jim Gabbert.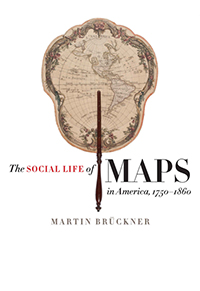 Fred B. Kniffen Book Award
The Fred B. Kniffen Book Award, established in 1989, honors the work of Fred B. Kniffen, a long-time scholar at Louisiana State University. The Kniffen Award recognizes the best-authored book in the field of North American material culture. The recipient this year is Martin Brückner for his book The Social Life of Maps in America, 1750-1860 (University of North Carolina Press).

Allen G. Noble Book Award
The Allen G. Noble Book Award is given in honor of the scholarship Allen G. Noble contributed to cultural geography. The award recognizes the best-edited book in the field of North American material culture. No award was given this year.

ISLPMC Historic Preservation Award
From the award presentation:
Each year, ISLPMC presents its Historic Preservation Award to an organization that has distinguished itself by doing something extra noteworthy. Nominees are selected by the individuals who are planning each year's conference, so in addition to securing meeting space, booking a conference hotel, lining up bus tours, and signing contracts with all of the above, the person responsible for making our annual meetings possible must also endure my pestering him or her to identify candidates for the award.
In a city like New Orleans, singling out one candidate in particular for this honor is no small task. This year, the Historic Preservation Awards committee had a rather difficult time in making the final selection, but we believe our choice best represents not only the qualities that make a successful historic preservation effort, but which also epitomizes our own organization: a small, little-known group that interprets, instructs, celebrates, or exhibits American material culture.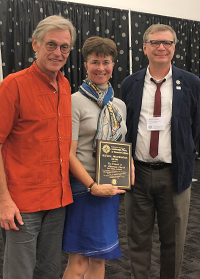 So tonight, ISLPMC would like to recognize the Friends of St. Alphonsus, which graciously hosted our evening reception last night. I hope you were there with us at St. Alphonsus Church so you could see the very great work ahead of the Friends, but also the magnificent 1856 sanctuary the organization works to preserve. Associated with the growing Irish population settling in the city's Irish Channel area, the building was designed by Baltimore architect Louis L. Long and was one of three Roman Catholic Churches in the neighborhood. The Friends of St. Alphonsus formed in 1990 following a visit to the de-consecrated church. The group successfully petitioned the Archdiocese of New Orleans to lease the vacant building. During the past 28 years, the organization has used the building to raise much-needed revenue. In addition to leading tours of the building, the Friends rent the space for concerts, auctions, and other public and cultural events. In 1996, the organization's efforts resulted in the designation of the church as a National Historic Landmark, the nation's highest historic property designation.
I am honored to present this year's ISLPMC Historic Preservation Award to the Friends of St. Alphonsus. Here to receive the award are Dr. Laura D. Kelley and Dr. Thomas Bayer of its Board of Directors [see photo above].
– Jeff Durbin, Chair ISLPMC Historic Preservation Award Committee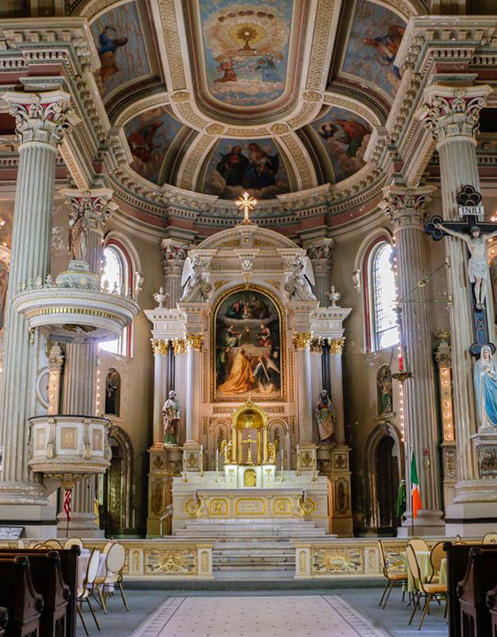 St. Alphonsus
ISLPMC Historic Preservation Certificate of Merit
From the award presentation:
Tonight, we are presenting the ISLPMC Historic Preservation Certificate of Merit to two different recipients.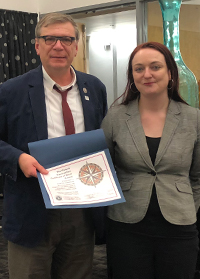 The first recipient is Save Our Cemeteries (SOC). Founded in 1974, the organization was electrified by the unthinkable demolition of well vaults surrounding historic St. Louis Cemetery #2. Led by Marie Louise Christovich, the group eventually partnered with the Archdiocese of New Orleans to raise hundreds of thousands of dollars to keep and ten to restore the vaults. Flush in this success, the group quickly realized that more than 31 other cemeteries were at risk. Ever since then, Save Our Cemeteries has actively worked to preserve New Orleans cemeteries as a non-profit 501c3 group. Today, the organization is headed by an Executive Director, who manages a small professional staff. In addition to working to restore tombs, the organization is perhaps best known for its tours of cemeteries. However, the organization also enlists volunteers to help with cemetery clean-ups (such as the one it did last May in Valence Cemetery in the Uptown Neighborhood).
For its more ambitious projects to restore individual tombs, Save Our Cemeteries advertises Requests for Restoration Proposals and relies up the cash it receives from donors and various group tours it leads to fund restoration work. Save Our Cemeteries also springs into action anytime it learns about tombs that have been vandalized or breached in city-owned cemeteries.
Lastly, each year the organization also conducts educational lectures, holds a cemetery seminar, a 5K run/walk through the Metairie cemetery, and a gala — the All Saints Soiree. Tonight, it greatly pleases me to present the ISLPMC Historic Preservation Certification to Amanda Walker, Executive Director of Save Our Cemeteries [see photo above].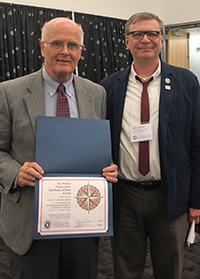 Our second certificate of merit tonight goes to the Louisiana Landmarks Society. Also a non-profit 501c3 group, the organization advocates for the preservation of historic properties in New Orleans. It was founded in 1950 when a group of citizens organized to protect the Gallier House. Ten years later, the Louisiana Landmarks Society was galvanized by the proposed Vieux Carré Riverfront Expressway, which would have resulted in the construction of an elevated expressway along the city's riverfront including the Vieux Carré. The organization's opposition to the freeway was detailed in Richard Baumbach, Jr. and William Borah's 1981 book The Second Battle of New Orleans: A History of the Vieux Carré Riverfront Expressway Controversy. The group fought the project for the next decade.
The vocal opposition of the organization ultimately led the U.S. Bureau of Public Roads, then under the U.S. Department of Commerce, and the Louisiana Department of Highways to consider various alternatives to an elevated expressway such as a surface freeway and a depressed road. But even these alternatives would have been unacceptable to Louisiana Landmarks Society.
Finally, on July 9, 1969, Secretary John Volpe, the head of the newly created U.S. Department of Transportation cancelled the expressway, stating that: "The Riverfront expressway would have separated the French Quarter from its Mississippi River levee and waterfront."
Other significant contributions of the Louisiana Landmarks Society include:
• restoring and managing the ca. 1799 Pitot House, which we visited on yesterday's bus tour;
• producing the group's "New Orleans 9 Most Endangered List," an annual list since 2005; and
• along with several other historic preservation groups, participating in the consultation for the proposed project to build a pair of new hospitals for LSU and the Department of Veterans Affairs in the Mid City Historic District, which would replace existing medical facilities, such as the iconic Art Deco-style Charity Hospital. The organization continues to advocate for the ultimate rehabilitation and adaptive re-use of the one-million square foot building, which continues to be vacant even now.
Tonight, I'm especially pleased to present the ISLPMC Historic Preservation Certificate of Merit to Michael Duplantier, President of the Louisiana Landmarks Society [see photo above].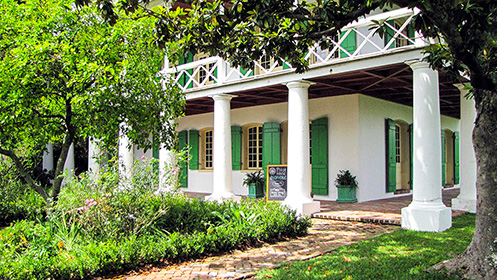 Pitot House
Warren E. Roberts Graduate Student Paper Competition Award
The Warren E. Roberts Graduate Student Paper Competition, established in 2004 in memory of folklife scholar Warren E. Roberts, a longtime ISLPMC member and former member of the Board of Directors, is an annual competitive award that recognizes excellence in original graduate student fieldwork, documentary research, and writing in the area of traditional North American material culture. No award was given this year.
Wilhelm-Keiffer Student Research Award
The Wilhelm-Keiffer Student Research Award, established in 2012, is in honor of long-time ISLPMC member, Hubert Wilhelm, a cultural geographer, whose enthusiasm for teaching has had a global impact, and is in memory of the Society's Executive Director, Artimus Keiffer, an architectural geographer and student of Hubert Wilhelm. The award is an annual competitive prize in the field of American material culture which is open to both undergraduate and graduate students. From this year's presentation: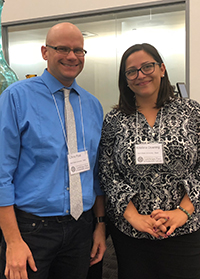 As the chair of the Wilhelm-Keiffer Award committee, it is my pleasure to announce this award for Kristina Doering. Kristy represents many firsts at Kent State at Stark. She is one of our first Environmental Studies graduates, the first chair president of our Sustainable Nourishment at Kent Stark student organization, and our first student worker in our campus garden project where she is responsible for maintenance, and harvesting and delivering the food we produce on campus. Last year she was awarded our campus's Geography Program award. (To clarify, I recused myself from the decision-making process for this year's award.) Kristy's research poster delivered at the 50th annual ISLPMC meeting represents all of these firsts. Her experience in our program and with our garden has inspired and empowered her to work for those who don't have the food they need. On top of all of this, Kristy is doing all this work while being a parent to three boys. As the son of a "non-traditional" scholar (I was at my mom's graduations and her PhD defense), I look up to Kristy for the work she has done for both herself and her family, and with all of the data she has gathered from our campus garden project. Congrats, Kristy!