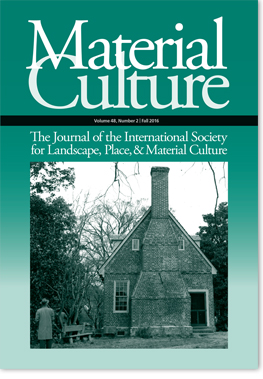 Material Culture is printed two times a year for members of PAS:APAL. It is abstracted and indexed in: JSTOR, ProQuest, History and Life, Historical Abstracts, GeoAbstracts, and the MLA International Bibliography. You may download a PDF of the table of contents of the current issue here. Fall 2016 Material Culture includes:
New Haven's Second Centennial Medal and the Origins of City Identity
Laura R. Macaluso, Department of Humanities, Salva Regina University
Abstract: This research paper brings into focus a commemorative medal created in 1838 in New Haven, Connecticut. Although on continuous display in the city's history museum, the lack of scholarly attention — perhaps due to its diminutive size and placement behind Plexiglass — has resulted in a series of half-attributions or misattributions over the course of one hundred years. As demonstrated in this paper, the so-called Second Centennial Medal, which celebrated New Haven's 200th birthday, is a tangible symbol of the city's first attempt to shape a cohesive identity through a visual medium. The medal was a great success, entering a second edition, and thus transmitted this identity, which emphasized both Puritan heritage and entrepreneurial activities, through a work of visual and material culture. The Second Centennial Medal also reflects the growing network of historians, artists, and civic leaders who worked together to literally write New Haven history for the first time — in both text and image. Previously passed over by both historians and art historians, the object is a singular statement about how New Haven presented itself in the first half of the nineteenth century, an image that retains power and is continually reused to this day.
Dairying Landscapes of the Amish in Wisconsin
John A. Cross, Department of Geography and Urban Planning, University of Wisconsin-Oshkosh
Abstract: The cultural landscape of dairy farming in Wisconsin is being reshaped by the rapid growth and expansion of the state's Amish population. Having grown from two Amish settlements in 1960 to over 50 today, the Amish now operate over ten percent of the state's dairy farms. 64 percent of Wisconsin's Amish farms have dairy herds. While all Amish farmers utilize the horse and buggy and many other traditional farming methods, differences in technology adoption are discernible between those settlements whose Ordnung permits the use of bulk milk tanks rather than milk cans. As newly arriving Amish households diversify the affiliations of Wisconsin's settlements, ranging from the ultraconservative Swartzentruber Amish to less conservative groups, variations in farming practices, use of mechanization, dairy herd size, and engagement in other occupations increase.
A Story Thoroughly Told?: History Becomes the Thoroughgood House in Princess Anne County, Virginia
By Virginia Price, Independent Scholar
Abstract: In 2016, the National Historic Preservation Act turns 50. One of the first documented examples of an architect arguing to save a "venerable" old house in the United States (U.S.) took place in Virginia in 1796. By the end of the nineteenth century, historical architects routinely looked at old buildings to figure out the material culture of an earlier time. Soon their attention focused on the Thoroughgood House in Princess Anne County, Virginia, and its restoration in the twentieth century provides insight into the preservation movement. Through the house, generations learned of the success story of immigrant-turned-landowner Captain Adam Thoroughgood. Historians studied the structure and floor plan of the house as they tried to reconcile architectural clues with traditional accounts. As their work pushed the intellectual frontier forward, historic sites were reinterpreted. At the Thoroughgood House, the frontier era initially represented by the house gradually faded as a fuller understanding of colonial Virginia emerged. This paper traces the story of that history as it unfolded at the Thoroughgood House.
Food and Drink: Geographical Studies II
Thomas A. Rumney, Geography Program, Plattsburgh State University
A special bibliography: The study of human food and drink from a geographical viewpoint is a specialized sub-field of the overall study of geography. Such studies can be done from many directions, including social and cultural geography, economic geography, environmental geography, historical geography, and political geography. While traditionally, such geographical studies have been limited in number and variety, recently there has been a visible growth in their number and variety, and this development has occurred with geographers around the world. This compendium, the second edition, attempts to widen what the first presented, especially in regard to the developments of such food and drink studies from a more world perspective. It seems probable, too, that this "new" trend in food and drink studies from a geographical point of view will continue to stimulate and inspire geographers and many others.