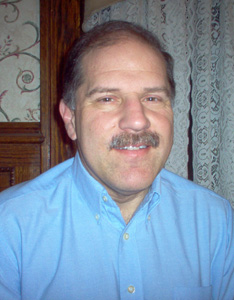 Marty C. Perkins is Curator of Research and Interpretation at Old World Wisconsin. He received a Bachelor of Arts degree in American History from Caroll College and a Master of Arts degree in Urban Affairs from the University of Wisconsin-Milwaukee. Upon graduation, Marty began working as a Restoration Specialist at Old World Wisconsin. Over the years, he worked as a Research Analyst and Chief of the Research Section until he became Curator of Research and Interpretation.
Marty has consulted on a number of projects including the Master Plan of Development for Kline Creek Farm for the Forest Preserve District of DuPage County, Illinois; the Historical, Functional and Structural Analysis of Log Structures with Recommendations for Interpretation for the Minnesota Agricultural Interpretative Center in Waseca, Minnesota and the Master Planning Sessions for California Citrus State Historic Park for the California Department of Parks and Recreation.
He has also assisted in preparing National Register of Historic Places nomination for the Sewell Andrews House, the Unitarian and Universalist Church and the Mukwonago High School in Mukwonago, Wisconsin.
Marty has written several book reviews for Wisconsin Magazine of History and Material Culture, written articles for Wisconsin Architect, Old House Journals, and Pioneer America Society Transactions and has authored several chapters in edited publication including:
• "The History of Agriculture in Waukesha County, 1834-1983" in the book From Farmland to Freeway: A History of Waukesha County, Wisconsin, edited by Langill and Loerke and published in 1984.
• "The Three-Bay Threshing Barn," co-authored with Charlie Calkins in the book Barns of the Midwest, edited by Noble and Wilhelm and published in 1995.
• "The Buildings of Old World Wisconsin," in the book Buildings of Wisconsin, published by the State Historical Society of Wisconsin in 2005.
Over the years, Marty has presented a number of professional papers at the Annual Meetings of the Wisconsin Federation of Museums, State Historical Society of Wisconsin, Midwest Open-Air Museums Coordinating Council, the Association for Living Historical Farms and Agricultural Museums, American Association of State and Local History, Pioneer America Society, and various other state and local historical societies and associations. His topics have included museum exhibits, barns, cobblestone buildings, and restoration of historic structures.
From 1990 through 2005, Marty was the editor of P.A.S.T.-- Pioneer America Society Transactions.