The Pioneer America Society is a national, not-for-profit organization that encourages the study and preservation of buildings, sites, structures and objects representing North American history, cultural landscapes and material culture.
Organized in 1967, the Society carries out its mission by identifying, documenting, analyzing and interpreting significant cultural landscapes, architecture and artifacts and by encouraging educational programs, scholarly research and preservation.
We are a small organization that encourages the sharing of ideas and research across a variety of inter-disciplinary fields. Direct application of this research by academicians and professionals in the organization can help achieve the mission of the society.
Our annual meeting offers members the opportunity to learn about a particular region and enjoy the camaraderie that is inherent in a small group. We also encourage student participation to keep the light burning. If you have not already, join with us in documenting the mundane, profane and insane elements of our culture.
From Echoes of History, Vol. 1, No. 1, November 1970:
The Pioneer America Society was organized to promote concern for the loss of visible symbols of our pioneer heritage anywhere in the nation, and to provide a communications media for those who share this interest.
The world changes before our eyes. The means and methods of one generation are not those of a later generation. The world must move on and we would not want to make it stand still even if we could. But the ingenuity of Americans in the past three hundred years, in situations that required ingenuity and resourcefulness, is something that should not be lost sight of. There is danger, however, of it being lost sight of, and that is why the Pioneer America Society is doing everything it can do to record and document the evidences of this ingenuity and resourcefulness, and to assist in making it possible for the youngsters of the present and the future to appreciate the best of our past and to carry those pioneer qualities of self-reliance and responsibility with them into the future.
The bulldozer mentality would wipe the evidences of our past from the face of the earth that they might be replaced at a profit. Every community will be enhanced and enriched by a balanced blend of the old, the not so old, and the new."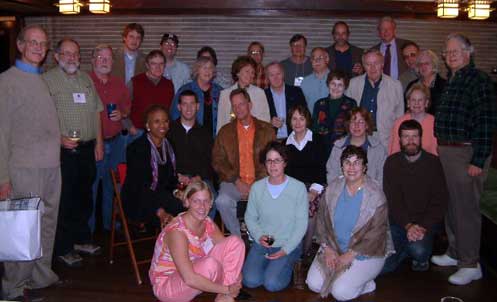 PAS members at the 2006 Annual Conference in Springfield, Ohio.