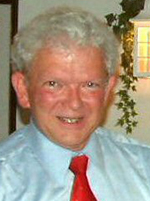 The Outstanding Service Award, established in 2012, is named in memory of long time member and geographer, Dr. W. Franklin Ainsley, who faithfully served as the Society's Secretary-Treasurer for 20 years. This special award is presented only periodically to an ISLPMC member in recognition of outstanding service and dedication to the Society.
Frank held an AB degree in Biblical Studies, University of North Carolina at Chapel Hill, 1966; a Masters of Divinity, Southeastern Theological Seminary, Wake Forest, NC, 1969; Masters in Geography, University of North Carolina at Chapel Hill, 1972; Ph.D. in Geography, University of North Carolina at Chapel Hill, 1977. He taught Cultural Geography at University of North Carolina at Wilmington for 36 years. Among his many honors were the NC Geography Educator of the Year Award, 2003; the University of North Carolina Board of Governor's Award for Excellence in Teaching at UNCW, 2004; and UNCW Distinguished Teaching Professorship, 2005. Among his many interests were the local immigrant farm colonies begun by Hugh MacRae and the preservation of historical buildings and sites.
In addition to his scholarly work and teaching excellence, Frank made marvelous contributions to the Society. He has organized three annual meetings: Edenton, North Carolina in 1985, Wilmington, North Carolina in 1998, and the 2003 gatheri¬ng in Bridgetown, Barbados, where he conducted three stimulating field trips. The people who have worked with him on these events agree that when it comes to thoroughne¬ss, attention to detail, responsiveness to individual needs, and the ability to make last-minute changes without missing a beat, there is no one better than Frank Ainsley. From 1986-1988, he served on the Society's Board of Directors, and beginning in 1989, he also served as the Society's Secretary-Treasurer, a position that he held for twenty years and involved infinitely more than preparing minutes and collecting dues. Indeed, it can be argued that during his years of service, Frank was the glue that has held the Society together.
The criteria for this award includes long-time membership (over 15 years), as well as outstanding service and dedication to ISLPMC through committee work, board membership, executive board membership, and/or planning annual meetings. The award will be presented on occasion to a member who deserves to be recognized. Any member who meets the above criteria can be nominated by contacting the Executive Director who will forward the nominee to the Douglas Award Committee for consideration.
Recipients of the W. Frank Ainsley Outstanding Service Award
2022 Recipient: Cory Jensen
2018 Recipient: Jeff Durbin
2012 Recipient: Cathy A. Wilson