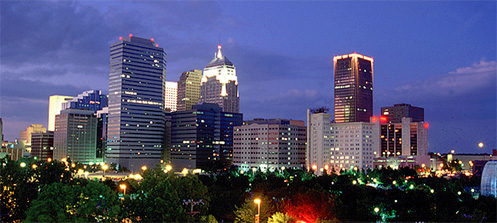 Planes, Trains and Automobiles ...
A Guide for Traveling to (and staying in) Oklahoma City
Hotels
Rooms at the Hampton Inn in the Bricktown section of Oklahoma City can be reserved for $149 (King) or $154 (double Queen); these rates are good through September 9, 2014. The hotel is within walking or a short cab ride to the paper sessions, reception, and awards banquet. Please call 1-405-232-3600 to make reservations under the PAS:APAL block of rooms.
Parking for those not staying at the Hampton Inn & Suites
The parking at the Hampton Inn & Suites is in a public garage. You pay as you go. In addition, there is limited street parking in the vicinity of the Hampton during the day, but parking is not permitted overnight.
On Friday, the day of the Paper Sessions, which will be held at the Downtown Library (300 Park Avenue, a 15-minute walk from the Hampton Inn & Suites), there is a large parking garage you may wish to utilize. It is called the Santa Fe Garage and is located at 2 Santa Fe Plaza between E. Main Street and Robert S Kerr Avenue. This is four blocks east of the Downtown Library and is the best parking option since it is huge, and parking spots are always available. In addition, there is the Main Street Garage at E. Main Street and N. Robinson Avenue, which is two blocks E-SE of the Downtown Library. Finally, there is the Metro Garage at 320 Dean A McGee Avenue, which is two blocks north of the Downtown Library.
Planes
Most of the major carriers fly to Oklahoma City. Will Rogers Airport is 11 miles away from the Hampton Inn in Bricktown OKC. A taxi ride to the hotel averages 25 to 30 dollars. There is no bus service from the airport (the airport website that claims service has not been updated).
Trains
OKC is served by the Heartland Flyer with daily service from Fort Worth, TX. Fort Worth is serviced by the Texas Eagle with daily trains arriving from Chicago and Los Angeles. It is a short walk or taxi ride to the hotel from the OKC Amtrak station. Exact schedules can be found at the Amtrak website: www.amtrak.com
Automobiles
OKC is well connected by the interstate highway system for folks who want travel by automobile. The daily (includes overnight) parking fee at the hotel is $12.
And, once you are there ...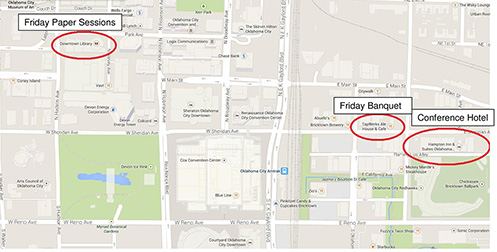 Click map for full-size PDF.