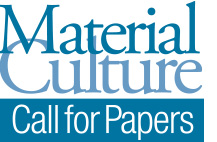 Call for Papers
This announcement serves as a call for submissions to special issues of the scholarly, peer-reviewed journal Material Culture. Material Culture is in its 45th year of publication and is published two times a year. The journal contains articles on theoretical and comparative studies and artifact and site analysis, as well as book reviews. Material Culture considers manuscripts about material culture in any region of the world. Material culture is defined as any tangible element of culture (anything that can be seen, heard, tasted, touched, or smelled).
Manuscripts should be jargon-free, 6000-8000 words in length, have a solid foundation in relevant theory and literature, and may contain up to 8 black and white images that are illustrative of the manuscript's key points. All manuscripts must adhere to the submission guidelines submission guidelines. Please direct all inquiries and questions to the Editor, Sara Beth Keough, at sbkeough@svsu.edu. Submissions on any topic relating to material culture are accepted at any time, but submissions for either of the special issues should adhere to the deadlines listed below.
Special Issue 2015: Technology as Material Culture
Issue will contain research articles that consider the cultural role of various forms of technology. For the purpose of this issue, technology is defined as anything that makes everyday tasks easier. Manuscripts may consider (but are not limited to) any form of technology (electronic or non-electronic), how a type of technology is used in a cultural context, changes that result from the incorporation of new technology, the preservation of older technologies, how a form of technology is advertised, evolution of a form of technology and its cultural connections, or local and global forces that impact a form of technology and its uses.
Deadline for manuscript submission: January 1, 2014
Reviews sent to author: March 1, 2014
Revised manuscript due: May 1, 2014 (additional reviews and revisions as necessary)
Special Issue publication date: Spring 2015
Special Issue 2016: Special Issue: Consumer Goods and Meaning in the New Millennium
Issue will contain research articles that explore the world(s) of consumer goods both in vernacular and modern spheres of consumptions.
Deadline for manuscript submission: January 15, 2015
Reviews sent to author: March 1, 2014
Revised manuscript due: October 1, 2014 (additional reviews and revisions as necessary)
Special Issue publication date: Spring 2016