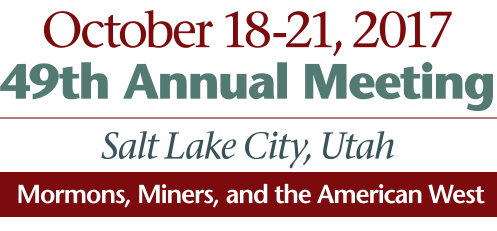 Join us in Salt Lake City, Utah for the 49th Annual Conference of the International Society for Landscapes, Place, & Material Culture. The theme of this year's conference is "Mormons, Miners and the American West."
The Hotel
The conference hotel is the Homewood Suites Salt Lake City-Downtown (423 W. 300 South, Salt Lake City, Utah 84101, USA; 801-363-6700).
Conference Events
The conference will begin Wednesday, October 18, with the board meeting in the evening. Thursday will be the first day of tours and will focus on downtown Salt Lake City. There will be two walking tours, one in the morning and one in the afternoon. One tour will focus on the historical development of South Temple Street and the Avenues neighborhood. The other tour will be held at historic Temple Square, campus of the Church of Jesus Christ of Latter-day Saints (Mormons), and will include, among other buildings, the Salt Lake Temple (exterior only), Tabernacle (home of the Mormon Tabernacle Choir), Assembly Hall and Conference Center.
The opening reception will be held on Thursday evening at the historic Memorial House in Memory Grove. Transportation will be provided. Paper sessions will be held on Friday, October 20, at the Rio Grande Depot Building (300 S. Rio Grande Street), home of the Utah Division of State History, located directly across the street from the hotel.
The Awards Ceremony and Banquet will be Friday evening at Squatters Pub Brewery, just up the street from the conference hotel.
Saturday, October 21, will be the all-day bus tour to Sanpete Valley in central Utah. We will be making stops for walking tours in a few cities in Sanpete Valley. Located off the primary I-15 corridor, Sanpete Valley was originally settled in 1849 and has not seen quite the heavy population growth and development common along the more populated Wasatch Front. We will see examples of early Mormon domestic and ecclesiastical architecture and variations of the early Mormon planning concept, the Plat of the City of Zion.
The Wilhelm-Keiffer Award
The Wilhelm-Keiffer Award Committee of the International Society of Landscape, Place, and Material Culture announces the guidelines for this year's award and encourages all eligible students to present a poster at the 2017 ISLPMC conference in Salt Lake City, Utah, from October 18 to 21. Please visit the Wilhelm-Keiffer Award page for complete information.