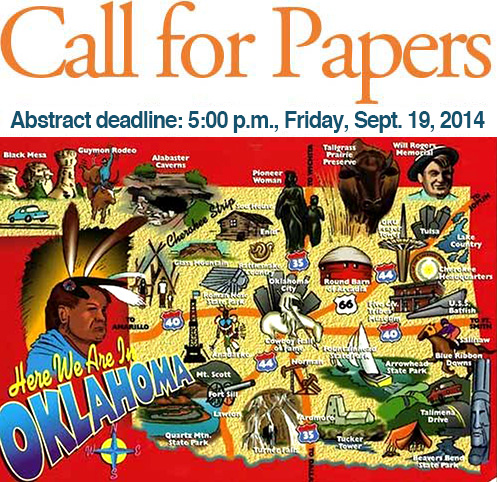 The Pioneer America Society: Association for the Preservation of Artifacts & Landscapes (PAS: APAL) will hold its 46th annual conference in Oklahoma City, Oklahoma, from October 9 to 11, 2014.
The 2014 Conference theme is Brand New State: Oklahoma and the Great Plains in Transition. Settlement and resettlement. Booms and busts. Seas of grass and clouds of dust. The landscape of the Great Plains is one of change, and Oklahoma in particular provides a unique opportunity to see what these changes have wrought. From indigenous occupation, to the forced resettlement of native tribes, to the Land Runs and Lotteries, and the oil booms and busts, Oklahoma provides a rich venue for the study of the transformation of landscape.
The conference committee is currently soliciting proposals for papers, special sessions, and panel discussions relating to the conference theme. However, papers on all material culture and landscape topics of interest to the Society are welcome. Note: Only papers submitted by PAS:APAL members and registered participants will be accepted for the program.
Presentations will be limited to 20 minutes with additional time for comments and questions. All presentation equipment will be provided. Abstracts must be no longer than 300 words, and include the title, name of author(s), and affiliation(s). Electronic submission in Microsoft Word is preferred.  Abstracts will be published in P.A.S.T. (Pioneer America Society Transactions). The paper session will be on Friday, October 10, 2014.
Abstract submissions are due by 5:00 p.m. Friday, September 19, 2014.
Abstracts may be submitted to:
Wayne Brew
Assistant Professor of Geography
Montgomery County Community College
340 DeKalb Pike
Blue Bell, PA 19422