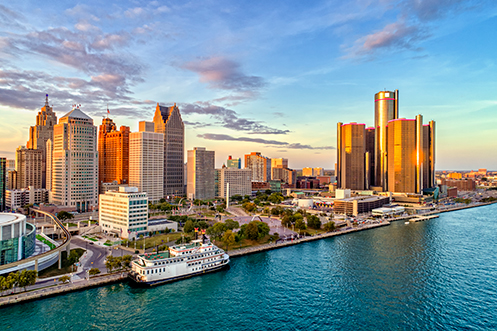 Join us in Detroit for the 51st Annual Conference of the International Society for Landscape, Place, and Material Culture.
Conference Venue
The conference hotel is the Doubletree Fort Shelby in the heart of Detroit, just a short walk to the Campus Martius and Grand Circus districts. Built in 1917 and restored in 2008, the Ft. Shelby Hotel will be the hub for all conference events, sessions, tours, and activities. The conference room rate is $155 for double occupancy. Make your reservation by September 8, 2019. Conference rate for valet parking is $25/day (normally $32/day). Address: 525 W Lafayette Blvd, Detroit, MI 48226. To register for the hotel at the special conference rate, visit this website.
Conference Events
The conference will begin Wednesday, October 9th with the board meeting at the Doubletree Fort Shelby Hotel.
On Thursday, October 10th, two walking tours will be available for attendees. Thursday morning will be spent exploring the "Murals and Markets" in downtown Detroit. In the afternoon, we will have a tour of several "Architecture and Urban Renewal" projects in downtown Detroit. Both tours will leave from the Doubletree Hotel. Some use of public transit will be involved. Conference attendees are welcome to participate in both tours. Advanced registration for these tours is required.
The Opening Reception will take place at the Doubletree Hotel on Thursday evening.
On Friday, our Paper Sessions will be held at the hotel. The Awards Ceremony and Banquet will be held in the conference hotel in the evening.
Saturday's all-day bus tour, "Preserving Rural Landscapes of Southeast Michigan," leaves from the Doubletree Hotel and heads down the Detroit River to River Raisin and Toledo, including key sites on the Maumee River such as Fallen Timbers and Ft. Meigs. After lunch at the 1859 Oliver House, we will explore 1820s-30s farmhouses near Ann Arbor and the influence of Greek Revival style and New England vernacular forms.
Also, on Saturday, we are offering a National Register workshop at Eastern Michigan University with Jim Gabbert, National Register historian at the National Park Service, and Todd Walsh, National Register Coordinator for the Michigan State Historic Preservation Office.
More details to follow!