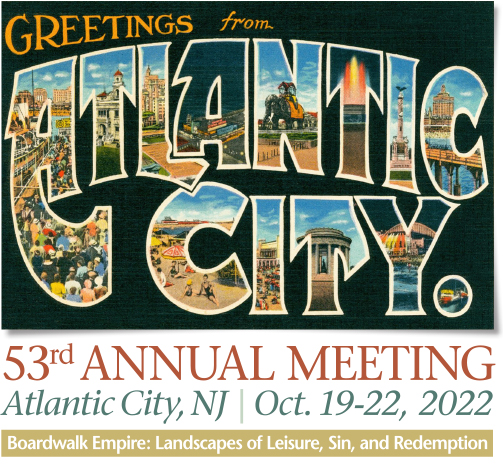 Conference Venue
The Hotel Headquarters for the meeting will be the Courtyard by Marriott Atlantic City Beach Block. The Wednesday board meeting and Thursday Reception will be held there. The address for the hotel is: 1212 Pacific Ave, Atlantic City, NJ 08401.
All events on Friday October 21, 2022, will be held at the top floor of the Resorts Casino. This includes the paper sessions, business luncheon, and awards banquet. Resorts Casino is within walking distance (1/4 mile) of our hotel and is located at: 1133 Boardwalk, Atlantic City, NJ 08401. The main entrance is on South North Carolina Avenue.
Conference Events
The conference will begin Wednesday, October 19, with the board meeting at the Courtyard Hotel.
On Thursday, October 20, there will be a bus tour exploring the Victorian Architecture of Cape May, the Mid-Century Modern (affectionately called Doo-Wop) architecture of Wildwood, a tour of Atlantic City, and a stop at Lucy the Elephant.
On Friday, October 21, will be the paper sessions and awards banquet at the Resorts Casino.
On Saturday, October 22, the bus tour will head north through parts of the Pine Barrens taking in the sites along US Route 9 on the way to Ocean Grove and Asbury Park.
More details to follow…