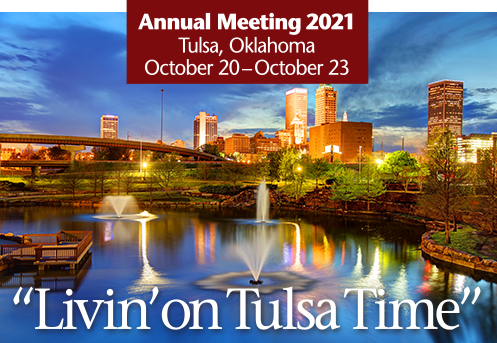 Join us in Tulsa for the 52nd Annual Conference of the International Society for Landscape, Place, and Material Culture.
Conference Venue
The conference hotel is the Hotel Indigo in the heart of the Blue Dome District, and located very near to the Greenwood District. The hotel will be the hub for many of the conference activities, including the board meeting, welcome reception, conference sessions, and busines luncheon. The conference room rate is $96 for the first 25 rooms on the block. This number will change to best available rate, which is about $129, after the 25 rooms fill. Reservations must be made by September 1. At that time, the room block will be returned to the hotel. The Hotel Indigo does have an airport shuttle it shares with its sister properties to and from the Tulsa International Airport (more detailed instructions will be posted, as Covid-19 conditions could change shuttle procedures). The hotel also has parking for $16/day. Address: 121 South Elgin Ave, Tulsa, OK. 74120. To register for the hotel at the special conference rate, visit this website or call 918-779-4445 and reference Group Code PIO.
Conference Events
The conference will begin on Wednesday, October 20 with the board meeting at the Hotel Indigo.
On Thursday, October 21, two field experiences will be available for attendees. A morning to early afternoon road trip will take us to Bartlesville to tour the Price Tower. An afternoon walking trip will depart from the Hotel Indigo to the Greenwood District and then to Greenwood Rising.
The Opening Reception will take place at the Hotel Indigo on Thursday evening.
On Friday, October 22 our Paper Sessions will be held at the hotel. The Awards Ceremony and Banquet will be held at the Hotel Indigo.
Saturday, October 23, will include an all-day bus tour. We will depart the Hotel Indigo and head to the Fort Gibson Historic Site. On the way there, we will make brief stops at a couple of the historic All Black Towns. We'll have a guided tour at the Fort Gibson Historic Site. After the Fort, we will make our way to the Hunter's Home and to the Ross Cemetery. We'll have lunch in Tahlequah. After lunch, we'll head over to the Cherokee National Museum. On our way back to T-town, we will stop at the historic Amish settlement of Maize (also part of Chouteau), and if time allows, we'll visit the Blue Whale of Catoosa on Historic Route 66.