Material Culture Culture is printed two times a year for members of PAS:APAL. It is abstracted and indexed in: JSTOR, ProQuest, History and Life, Historical Abstracts, GeoAbstracts, and the MLA International Bibliography. You may download a PDF of the table of contents of the current issue here. The Fall 2022 issue of Material Culture includes: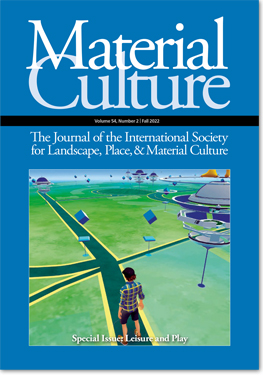 Dollface: The Material of Femininity
Molly Rosner, LaGuardia Community College, CUNY
Abstract: Using the writings of a prominent, mid-twentieth century doll collector, this article traces the ways dolls, and their clothing, can be used to dictate and transmit specific notions of femininity. An exploration of a bridal doll collection that belonged to Mrs. Mary E. Lewis, the President and Founder of the National Doll and Toy Collectors Club, reveals a consistent valuing of wealth, subservience, and whiteness, as well as a resistance, to the changing ideals of modern womanhood. Using detailed descriptions of the clothing and material of the dolls, this paper examines thinly disguised commentary on real women, race, class, and modern culture in a book authored by Mrs. Lewis. The article concludes by tracing how these traits continue to influence contemporary dolls and depictions of femininity in America.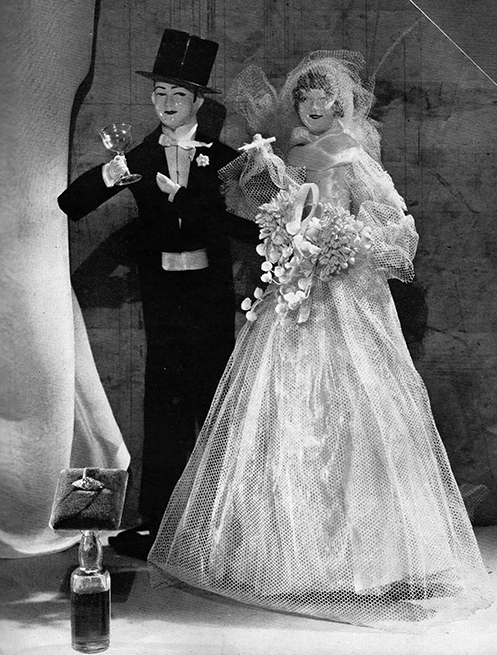 "Mr. and Mrs. Speakeasy." Source: Lewis, Mary E. in Collaboration with Dorothy Dignam. 1947. The Marriage of Diamonds and Dolls. New York: H.L. Lindquist.
The Sandbox: How Women Planted Play in the City
Tamar Zinguer, Christopher C. Gibbs College of Architecture, University of Oklahoma
Abstract: While Stanley Hall was, in 1888, the first psychologist to speak of the educational benefits of play in the sandbox, he was far from comprehending its vast community building capabilities, as he excluded half the population — girls — from being potential partners at play. At the time, women found the sandbox to be a potent tool of socialization: Henriette Schrader-Breymann, innovative Kindergartner in Berlin, and Marie Zakrzewska, pioneer doctor and hospital director in Boston, set the way. Other volunteers and benevolent women at the turn of the century followed. With the sandbox, women instigated a practical experiment, to change patterns of urban space to include considerations of family life. They provided a testing ground, not just for children to play, but for women to rely on other women for childcare, and hence transformed acts — which are domestic in nature and mostly relegated to indoor life — into events in the public sphere, outside. Using a malleable material that elicits urban construction sites, those women created an embracing place reminiscent of the beach and of vacations spots. With the sandbox, women carved space for themselves through play: in the school yard during the summer months and in the city's parks, before introducing the sandbox at a World's Fair (1904) to an international crowd. This paper presents the sand garden as a feminist space, a practical experiment in material culture, significantly affecting the city's streets and parks.
Static Sites, Dynamic Spaces: Space-time flattening through the lens of Pokémon GO
Lindy Westenhoff, Department of Geography, and Hannah Soblo, Department of Rhetoric, Writing, and Linguistics, University of Tennessee
Abstract: Place-names and descriptive memorials are inherently subject to interpretation by the viewer. However, there can be a significant loss of context in the representation of dynamic sites, and therefore, a reduction of their meaning. This is especially pronounced in the use of augmented reality (AR) technology, and particularly through recent popular AR games like Pokémon GO, as features of interest are presented as static objects in space and time. This article focuses on two sites in Knoxville, TN, which are represented in a range of ways in the real world, but are restricted to single images in a gamified context. By engaging with these sites through multiple media, we found the limited representations of the sites not only inaccurate, but potentially dangerous for players of social minorities. We additionally investigate the impact of gaming in altering players' experiences of these complex sites, as well as how the corporate mediation of sites can further affect representations of space. The resulting simplification of representations, through which the context of sites becomes constrained and artificial for the purposes of recreational use, we term space-time devaluation. We find that digital representations of space in an AR framework do not (re)present the complex narrative that exists in the physical landscape, but instead present a flattened and sanitized narrative of place, resulting in significant losses in the cultural and representational context of these sites.
Agritourism Purposes in Colorado's Grand Valley
Jeffrey Widener, GIS-IT Analyst, Tulsa, Oklahoma
Abstract: This paper highlights how farmers and community members in Colorado's Grand Valley, via agritourism, are making purposeful actions to sustain the farming way of life and the precious land that enables it. Agritourism is one industry that blends the older, utilitarian lifeways with newer avenues of offering people amenities and leisure experiences. Many farmers see this activity as more than just a money-making enterprise. Agritourism educates individuals who participate in the various activities on where their food comes from and how it is produced. This education process supports the farming industry in the Grand Valley and is helping the agricultural industry be more resilient against various pressures.