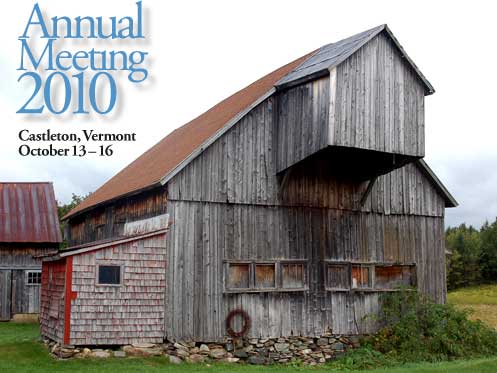 Abstracts of Papers Presented
Contentious Preservation down at the Old OTO: Some Novel Outcomes from an Unlikely Public/Private Partnership
Christopher Boettcher, Castleton State College
In its hey day in the 1920s and early '30s, the OTO Ranch, Montana's first "dude ranch," played host to socialites from New York and Chicago as well as Big Shots from Hollywood looking for the "authentic western experience." The ranch was abandoned in 1938, however, and left to disintegrate until its unlikely rediscovery in 1991. What followed was a 15-year struggle over the final use of the lands and its buildings. The United States Forest Service rangers who discovered it embarked upon a secret plan to save the site and restore it as an interpretive facility. Their plan was complicated, however, by its discovery by USFS administrators and the original provisions for land use as a zone protecting elk migration patterns and grizzly habitat. What likely saved the OTO was the rangers' strategy of partnering on preservation work with vacation volunteer" groups, chiefly Elderhostel and Amizade. By the time the rangers' plans were officially brought to the attention of Washington, too much work had been done and too much volunteer energy had been invested to simply burn the buildings as originally planned. As a consequence, the main lodge entered the National Record of Historic Places in 2004, two years before a final decision was made on the official land usage plan. Although that plan puts strong limitations on use facilitating preservation, this adaptive use of the ranch site suggests some interesting parallels between its original ranch activities and current vacation preservation.
The Mobility of Settlers of a Northeastern Nevada Valley
Marshall E. Bowen, University of Mary Washington
Analysis of the life histories of thirty-one family heads and single adults who lived in a northeastern Nevada valley between 1909 and 1927 shows that the largest number of settlers were born in the North American heartland and made their way westward by way of Kansas, Colorado, and Utah. Immediately before settling here, about three-fourths were living in California and Nevada, where they were employed as carpenters, laborers, and farm and ranch hands. When they departed, approximately seventy percent moved to communities in California and Nevada, but not necessarily to the same places where they had previously made their homes. After a transitional period that involved a great number of short moves, nearly half of the settlers died in California, but only three were still in Nevada at the time of their deaths. Maps illustrating these individuals' movements, supplemented by a detailed account of the migration paths of one family, provide fresh insights into the mobility of blue collar workers and their families in the late nineteenth and early twentieth centuries.
Work in Progress: Assessing the development potential of Historic Business District Properties in Danville, PA
Caru Bowns, Pennsylvania State University
This study is integral to on-going research of Pennsylvania's Middle Susquehanna River Valley's cultural landscape and regional planning efforts for sustainable development. The study combines funded research to explore the efficacy of Form-Based Code (FBC) zoning to facilitate development of historic properties and community-based inquiries about the economic viability of developing unfinished and under-utilized upper story units in the historic business district of Danville, PA.
The significance of the research is highlighted in the 2003 Brookings Institution Report, "Back to Prosperity":
…one opportunity that could be addressed more effectively…is the potential to support the development of mixed-use properties — particularly three-and four-story buildings with first floor storefronts and upstairs residential space, the latter of which is often vacant. Small-scale mixed-use is an important link between Main Street and Elm Street, as well as between what Pennsylvania has and what could become genuinely alluring.
Organized into three sections, the first discusses the research inquiries and provides overviews of "Form-Based Code," a new zoning approach (advocated as a potential mechanism for revitalization development in existing and historic districts) and the socio-cultural context for current development goals in Danville PA.
The second part details the research methodology (surveys/photography) to document and assess structures in Danville's historic business district and what the preliminary findings reveal about existing conditions and the potential for viable future development. Part third concludes the study with a discussion of "next steps" based on community stakeholders' assessment of the preliminary findings and whether FBC is an applicable measure to facilitate development in downtown Danville and other historic business districts.
Manayunk; A Place of Waterpower, Textile Industry, Gentrification, and "Hollywood"
Wayne Brew, Montgomery County Community College
The first place that comes to mind in relation to water power and textiles is New England, but this also took place in Manayunk located along the Schuylkill River in the Northwest section of Philadelphia. In 1819 the Schuylkill Navigation Company completed a 2 mile section of canal to provide better transportation to the coal fields in the North. This triggered the development of textile mills along the canal to take advantage of the water power available. By the mid nineteenth century steam engines (and later electricity) replaced water as the power source. Manayunk continued to thrive as an industrial area until the mid-twentieth century attracting many diverse groups of migrants. This illustrated presentation will provide a brief history of transportation, industry, and migration of Manayunk. Other discussion items include; the revitalization of 'Main Street', gentrification, and Hollywood films shot in this neighborhood.
Disappearing Cheese Factories in America's Dairyland
John A. Cross, University of Wisconsin-Oshkosh
The number of Wisconsin farms with milk cows fell by over 90,000 over the past fifty years. This drop, together with the rise in megadairy operations, has resulted in tremendous changes in the dairy farming landscape. Not only did Wisconsin lose 87 percent of its dairy farms over the past half century, but the state is losing its cheese factories. In 1920 Wisconsin had 2,771 cheese factories. By 1960 that number had fallen to 808, and now only 126 cheese factories are operating.
The crossroads cheese factory once dotted Wisconsin's farming landscape. While some relatively small family-operated cheese factories remain in business, most of Wisconsin's cheese production now comes from industrial-sized operations. This paper focuses upon discussing the spatial distribution of those cheese factories remaining in operation and describing the changing role of those former factories that once helped define Wisconsin's dairy landscape.
Many former cheese factories, including the state's first, have simply been erased from the landscape. Of those former factories still remaining, the most common new usage is residential. Among the 204 cheese factories listed on the Wisconsin Historical Society's Architecture and History Inventory, over a third had undefined uses at the time of their listing. Thirty-eight remained as operating cheese factories, while 58 were clearly being used for housing. Although inclusion in the inventory is highly biased by county location and the listing is outdated, it provides a hint to the changes that are sweeping Wisconsin's rural dairyland.
The Curious Landscape of Automotive Proving Grounds
Michael W. R. Davis, Eastern Michigan University
A hundred, even a thousand years from now, scholars may puzzle over the archaeological remains, especially roads which go nowhere, of the automobile industry's Proving Grounds, better known by the public simply as "test tracks." Since the inauguration of these facilities in 1924 by General Motors near the village of Milford, 40 miles northwest of Detroit, virtually every vehicle manufacturer in the world has needed to create proving grounds of up to 4,000 acres with a variety of natural and man-made structures, including specialized roads and engineering buildings. The roads have included short stretches of virtually every worldwide road surface imaginable from sand, dirt and gravel up to multi-lane concrete high-speed ovals and straightaways mirroring motorsports venues. Typically these proving grounds lie behind high walls to keep out prying eyes from anxious competitors and a public curious to view future models under test. In the U. S., these unique landscapes have been located in Michigan, Ohio, Indiana, Wisconsin, Florida, Texas, Arizona and California. Based on the presenter's tenth published book [Detroit Area Test Tracks, Arcadia, 2010], the illustrated lecture unveils in an historical journey what takes place behind the secretive walls, what today's structures look like and — if not destroyed by encroaching real estate developments — which features may last for future study.
The Rangeley 'Mystique': Tracking Regional Identity and Development through Landscape Formation
Owen Dwyer, Indiana University at Indianapolis and Matt McCourt, University of Maine-Farmington
This paper tracks the overlaps and divergences among scholarly landscape traditions through a case study of the Rangeley lakes region in western Maine. We specifically examine three frameworks that reveal the forces that have shaped this area's unique identity. First, we rehearse a material culture analysis of regional forms and practices that predominate among representations of Rangeley landscapes. Next, we outline a political economic appreciation for the transition from industrial to financial ownership of forestland, as pulp and paper companies have divested their holdings and given way to a new cast of owners including REITs, TIMOs, and conservation NGOs. And, lastly, we examine Rangeley's symbolic/discursive landscape formation through the lens of successive waves of tourism promotion as well as current efforts to market the Rangeley mystique. Each of these three frameworks helps us place the Rangeley "mystique," as well as confirming the value of multifaceted landscape analyses.
Northern New England Corn Shops: Gender and Memory
Paul B. Frederic, University of Maine at Farmington
Spatial economic history is usually documented by records left by primary decision makers and evidence on the landscape. In the mid-nineteenth century, women started to play a major role in the industrial labor force. Many young women left their rural communities for work in mill towns; however, for those that remained behind, corn shops provided opportunities to earn a wage. Their jobs were local, related to agriculture, viewed as a community endeavor and considered socially acceptable. With limited mobility, female corn cannery workers were a captive labor pool. An exodus from corn shops occurred following World War II as more women began driving automobiles and employment opportunities expanded for them in nearby larger places. Because role and gender may influence how an industry is perceived, I interviewed former corn cannery workers in Northern New England to identify differences in employment tasks and work memories. Beginning in the 1850s, corn canning developed into a significant rural enterprise in Maine, New Hampshire and Vermont. By 1920, over 120 corn processing factories employed about 8,000 seasonal workers. Most of the operations were located in small towns and hamlets where wage labor opportunities were limited. The region's last corn shop closed in 1968 due largely to competition from states to the west. Duration of employment, starting age of employment, access to transportation, nearness to canneries, hourly wages, spending priorities, job satisfaction and socializing among workers differed between men and women at the canneries. The corn canning industry and its workers helped shape rural Northern New England's cultural and physical landscape from the mid-1800s to the mid-1900s.
Perry Maxwell's Green Revolution: A Banker Brings Golf to the Midwest
Jim Gabbert, National Park Service
Perry Duke Maxwell is acknowledged by many as one of the finest American-born golf course designers of the first half of the 20th century. A relative latecomer to the sport, Maxwell embraced golf wholeheartedly. While not a talented player, he turned out to be an exemplary designer. His courses populated the young state of Oklahoma and his reputation spilled out across its borders. Working from coast to coast as a designer and builder, Maxwell achieved a reputation for creating beautiful, challenging, but fair golf courses. Along the way, he helped changed how the game was played. By concentrating primarily on his Oklahoma golf courses, this paper will look at the evolution of Perry Maxwell's design philosophy within the context of course design of the first half of the 20th Century. It will also attempt to place Maxwell in the pantheon of course designers from the Golden Age of golf course architecture, the 1920s and 1930s, by demonstrating the legacy of his best designs and the important contributions he made to the profession.
Clothesline Debates and the Transformation of the American Backyard Landscape
Blake Harrison, Southern Connecticut State University
In recent years, a number of states have passed "right-to-dry" legislation guaranteeing the right to use clotheslines in cases where neighborhood restrictions stipulate otherwise. These efforts are rooted primarily in concerns about energy conservation and carbon emissions associated with the use of electric and gas-powered driers. This presentation examines the politics of clothesline usage with two goals in mind. First, it reviews the discourse and logistics of clothesline debates, particularly in New England. Second, and more specifically, it frames those debates in terms of a contemporary transformation of the American backyard landscape. During the early to middle decades of the twentieth century American backyards underwent a shift from being primarily utilitarian spaces to aesthetically pleasing spaces reserved for familial and social activities. Clothesline debates reflect a new cultural shift occurring in how many Americans view and utilize outdoor domestic space. Rather than reserving the backyard as a space for consumptive practice alone, I argue, many Americans are now turning their yards into spaces for domestic productivity as well. Clotheslines have become an important material symbol for this shift.
Highway Expansion and Landscape Change in East Tennessee
Douglas A. Hurt, University of Central Oklahoma
Many of America's historic cultural landscapes are threatened by economic development. These traditional landscapes have received much attention from geographers who have attempted to understand and interpret their meaning before these places are radically transformed. Two counties in East Tennessee provide another example of conflict over the idea of progress as urban and suburban residents, recently moved retirees, and small-scale, long-term farming families have reacted to the current expansion of U.S. Highway 321 in vastly different manners. Coupled with changes to national tobacco policy, the highway project has undermined the region's historic landscapes while promoting increased accessibility and economic development. Like other American regions, East Tennessee has evolved into a location where residents compete to either shape a modernized landscape of progress and technological efficiency or maintain a predominantly agricultural landscape in hopes of supporting a greater degree of traditional place identity. Once again, the American landscape is shaped by often-conflicting human goals, aspirations, values, and public policies. Field work conducted between 1995 and 2010 chronicled these changes.
The Dynamic Hinterland of New York City: The Transition from Farming to Watershed Protection in Delaware County, NY
Claire A. Jantz, Shippensburg University
The Cannonsville and Pepacton watersheds make up the headwaters of the Upper Delaware River Basin in Delaware County, New York, and serve as critical areas that protect the water supply for New York City (>8 million residents). Within these watersheds, which cover about two-thirds of Delaware County, New York City is actively engaged in land protection and management strategies that include land acquisition, stream restoration, and voluntary programs to promote best management practices on farms and forestland. New York City's success in watershed protection has been heralded by planners and environmentalists, however it is strongly criticized by local residents for restricting access and use to land and preventing viable economic development. This paper will present a historical analysis that highlights the complex and dynamic relationship between New York City and its hinterland. Historical census data provide the basis for an examination of demographic and economic trends, and land use data are used to assess landscape dynamics. The analysis is informed by Walker and Solecki's (2004) framework of land use change in coupled and decoupled urban-hinterland systems. In the Upper Delaware region, New York City its hinterland once exhibited a traditional and tightly coupled system in terms of their economic interdependency, where timber and farm production (primarily dairying) formed the basis of the hinterland economy. These tight economic relationships declined as New York's economy and markets globalized, leaving the farming economy in Delaware County faltering. At the same time, New York began to form new relationships with its hinterland that focus on ecosystem services (water supply and recreation), creating an ecologic and economic interdependency, the implications of which are still unfolding.
The Global Reach Cultural Community – The Connected Museum Landscape and Memory at Global Scale
Margaret J. King, Center for Cultural Studies & Analysis
The dynamics driving cultural institutions are taking a globally connected direction. Rather than concentrating on their immediate material culture collections, museums in particular are discovering their range is far broader and richer when defined by the intercultural and international networks for their subject matter and expertise. In discovering and building these networks, museums are discovering themselves to be a type of brain trust, which defines new forms of intelligence, resourcing wealth as social media, brain power, and creativity.
This networked power matrix portends a future model for cultural institutions in general to analyze material and memory. This trans-border network constitutes a new definition of community in its global focus on connecting and inspiring people, programs, organizations, and ideas. The outcome is more than the sum of any single institution, creating a world matrix of idea and resource exchange. A case study is the recreated Fort Worth Museum of Science and History, with its world-wide reach of programming and expertise.
"My Mountain Home!": Understanding Place in Mid-Nineteenth Century Vermont
Laura Kolar, University of Virginia
This paper examines two ways that Vermonters understood place during the 1860s and 1870s, a period of great transition for the state of Vermont and the United States generally. During these years, thousands of Vermonters traveled West to seek opportunity and many of these migrants, as well as others, sought to capture and document Vermont during this transformative time. Two different kinds of publications in particular appeared that documented Vermont.
One of these publications, The Vermont Historical Gazetteer, totaled five volumes and over 6000 pages. Over thirty years, a woman named Abby Hemenway compiled thousands of Vermonters' contributions to try and capture the essence of her home state before it was too late. The emergence of this compilation coincided with the rise of another movement to document place: the county atlas. A distinctly American product, the county atlas was invented in 1861 and reached the height of its popularity in the mid-1870s. A handful of major companies created and mass-produced these atlases in the eastern hubs of New York City and Philadelphia.
Both the histories and the atlases were products of their time. They each reacted to, reflected and embodied major events and movements of the period: the Civil War and its aftermath, westward and urban migrations, and the rise of modern, industrial capitalism. Analyzed together, these varied publications reveal that Vermonters valued and held conflicting understandings of home: the desire to embrace a modern future, but also the need to cherish the past, the participation in a national story at the same time attempting to cling to the distinctly local nature of home.
Living in a Ghost Town on Social Security
Chris Mayda, Eastern Michigan University
Cherry Creek is listed as a ghost town, yet 26 people lived there, many since the 1970s. Who are these people and what is this town miles and miles from anywhere in far eastern Nevada? Field work provided the answers about the retired residents living in this old mining town on social security. This town is what happens to those of us without resources and now retired. What will happen when and if social security disappears?
Worker Cottages in American Cities; Observations & Comparisons
Marshall McLennan, Eastern Michigan University
By and large, cultural geographers and folk-life scholars have utilized Fred Kniffen's morphological approach to the analysis of American dwelling types to identify regionally distinct rural and small-town house forms. A notable urban exception is the "shotgun" house. In the early stages of the American industrial revolution, employers provided housing for their workers. Soon, however, the provision of shelter was abandoned to real-estate speculators, and a variety of single- and multi-unit house forms materialized. This paper focuses analysis on one category of urban housing, the single-unit, narrow-frontage worker cottage. Because urban lots are narrow several cottage types bear a superficial resemblance to the shotgun in massing characteristics although floor plans, and in some instances, raised basements, distinguish them from the New Orleans shotgun. Specific attention will be given to Detroit's mid-nineteenth-century Corktown cottage and to a more diverse range of late nineteenth- and early twentieth-century worker cottages in Chicago and its environs. The presentation will conclude with morphological analysis of another shotgun-like urban house type, the Prairie-style Chicago bungalow. The range of cottages considered share an elongated shape and longitudinal orientation to the street, dictated by narrow frontage platting. The ever-growing numbers of worker cottages in many American cities were a response to industrialization and immigration. The Chicago bungalow, as well as other bungalow forms, met the housing needs of Chicago's expanding middle class.
Losing Louisiana Artifacts
Gerald T. McNeill, Southeastern Louisiana University
South Louisiana is losing small parts of its unique cultural landscape, especially above-ground tombs in cemeteries and one particular folk housing type. One by one, the tombs and the houses are falling to the ground on their respective landscapes. In New Orleans, the situation of one cemetery has been noted and is now listed on the 2010 World Monuments Fund's Watch List. This cemetery, St. Louis #2, is located in Treme, one of the old Creole Faubourgs of New Orleans. This listing follows the designation of another cemetery in New Orleans, Lafayette #1, on the WMF Watch List in 1996 due to its advanced state of deterioration. Fortunately, Lafayette #1 was the recipient of grants to improve the cemetery landscape and restore some of the above-ground tombs, but more restoration is necessary. The folk house type fading away is the built-in porch type that was first identified by Dr. Fred Kniffen in the 1930s. Field work in the above-mentioned cemeteries and other south Louisiana cemeteries along with observations of the remaining built-in porch type folk houses visible from the roadways of southern Louisiana shows the immediate need of documentation. But, only some form of quick stabilization followed by restoration will save many of these artifacts. Similar to many places around the country, the problem lies with private ownership. Yes, even many of the above-ground tombs are privately owned, even though they are located in a city burial ground. The privately owned above-ground tombs have to be declared abandoned for a fifty year period before the city will even consider allowing any exterior tomb work to be started by any group or person whom does not own the tomb.
TELL ME WHAT IT DOES: An Architect's Plea for More Attention to Function in Analyzing Built Resources.
Terry Necciai, RA, John Milner Associates, Inc.
Cultural geographers, architectural historians, and architects see the built environment differently. For architects, buildings and their components become architecture when they are both functional and art. Architects see "function" in every aspect of building "form." Architectural historians have historically treated architecture as a matter of pure aesthetics, categorizing everything by style with little if any reference to function. As both architects and historians ignored vernacular building traditions, cultural geographers stepped into the mix and made them their specialty.
While cultural geographers have access to a tremendous range of information on the functions of the buildings and features they study, they often focus exclusively on form in their analyses. For instance, as important as threshing was in the design of most barns built before machines arrived, the way function and orientation to the wind and fields generates the design of a barn is often overlooked in favor of comparing similar examples and discussing form alone.
I will present an architect's view of vernacular rural buildings and landscapes, demonstrating the value of a "form follows function" approach. Nineteenth century drawings of farms from county atlases and similar publications will illustrate the presentation. The illustrations contain rich information on the siting, orientation, and functional issues of agricultural resources, and it can easily be argued that functionality was commonly understood and was on the minds of the illustrators who depicted it so clearly in the drawings they produced.
The vernacular buildings and rural landscapes that cultural geographers study are full of information on functional design. More emphasis on how function generates building form is needed in the literature of cultural geography.
Forgotten Histories, Misplaced Geographies: Monuments and Memory in a New Hampshire Town
Scott C. Roper, Castleton State College
In 2009, the town of Lyndeborough, New Hampshire, moved its decorative Civil War-era cannon, World War I monument, and combined World War II/Korean War memorial from the village of South Lyndeborough to Lyndeborough Center, a federally recognized historic district. The move, which seems to have been undertaken in part to beautify the center district, created a storm of controversy among the populace of South Lyndeborough, a working-class village located along the former Boston and Maine Railroad. Residents there reasoned that the monuments had "always" been in the village and, therefore, belonged there. Yet at the time, no one in the community could establish the ages or more than general significance of these memorials.
In this paper, I suggest that three conditions existing in 2009 allowed the monuments to be moved: popular images of South Lyndeborough as a working-class landscape rendered it an "illegitimate" New England village; the actual histories of the monuments had been lost to the public; and at both the public and institutional levels, misconceptions existed regarding the status of public land in the village. Only after recovering the monuments' history and village's historical geography, and — ironically — only by elevating Lyndeborough Center's historic status in the public consciousness, could the monuments be returned to the south village with reasonable expectation that they would not be moved again in the foreseeable future.
An Architectural Genealogy of an American Family
Maggie Valentine, University of Texas at San Antonio
I teach American history through the history of architecture, especially vernacular, since that reveals the more democratic side of history. I have been studying genealogy after discovering some old documents and photographs from my family, but the research can be tedious and the results a long list of begats. This study combines the methodologies of genealogy, oral history, and vernacular architecture as it explores the occupant-built houses lived in by a middle-class family as they set down new roots across frontier America from England to New England to Ohio and the Midwest to Georgia to Arizona and California over the course of three hundred years.
As the family alternately prospered and suffered disappointments, their lives intertwined with others through marriage, war, migration, and religious affiliations. Each generation of homebuilders was responding to a new environment, strong religious beliefs, a changing society, and ideas of home that were shaped by the houses in which they grew up. The form, plan, and style of each house reveal the history of its time and place, and link it with the houses of both the previous and the next generations. The context of place tells of the growth of communities and cities, as each generation moved on and settled in new places, but repeated the pattern of clearing new land, starting new communities, and seeing their children leave for new places. The houses evolved from English Tudor to New England saltboxes to Midwestern farms to California bungalows, and along the way, included a stop on the Underground Railway, a farmhouse on the National Register, and a sod homestead in Arizona.
Rootedness in Mobility - Identity, Space and Spatial Relationships in the Nineteenth-Century American West.
Nina Vollenbröker, The Bartlett School of Architecture, University College London, UK, 2010 Hubert G.H. Wilhelm Student Research Award Winner
Across the disciplines which consider human-spatial relationships - anthropology, architecture, geography, philosophy, travel theory etc. – rootedness is defined as the long-term attachment to a single, known and geographically bounded location. The absence of this kind of familiar home-place is seen to result in rootlessness, a condition which threatens relational space and its meaningful inhabitation.
In this paper I question these accepted definitions which tie rootedness to long-term stasis and familiar places. I propose instead that it is possible to be at home in travel and that manifestations of rootedness can not only be found, but are particularly developed and elaborate, amongst migrants who spend extended periods of time in motion.
I am pursuing a Ph.D. in architectural history and theory, but my research, although firmly grounded in my discipline's discourse, turns to unusual architectural evidence: to manuscript diaries kept by the Overland travellers to California and Oregon (1844-1885), to songs and poetry written by roaming cowboys (1860-1890) and to artefacts created and utilized by the pioneers inhabiting the constantly moving frontier (1840-1880).
I use the textual and artefactual evidence left behind by the transitory inhabitants of the nineteenth-century American West to show that for these travellers feelings of belonging — supposedly only capable of emerging through the static inhabitation of a known home-place — come forward from their unfamiliar surroundings and from the act of continual movement itself. I demonstrate the highly compassionate and complex relationships the migrants develop with their extended environment — with mountains and river's, with weather and light conditions, with silence and distance — and show how the transitory landscape becomes a place which guards their privacy, nurtures their identity and affords feelings of care, devotion and belonging. I conclude that rootedness requires neither sites which are enclosed and predictable, nor forms of inhabitation which are static and repetitive, but that the sites, the practice and the processes of rootedness can be open, dynamic and multilayered.
The paper stems from a larger work on belonging, home and mobility. Its aim is to challenge our perception of being-at-home and being-on-the-move as mutually exclusive and shows that we can, in fact, find a sense of home, belonging and rootedness in mobility. Acknowledging mobility as a practice which is (and has always been) able to provide meaningful ways of being in space allows us to recognize mobile lifestyles as alternative visions of life as opposed to marginalizing and labeling them as alienated, rootless and spatially destructive.
Oklahoma Winescapes
Jeff Widener, University of Central Oklahoma
Before 2000, Oklahoma had few winescapes — landscapes comprised of elements unique to wine culture. After the passage of State Question 688, which allowed wineries to self-distribute their products, Oklahomans began witnessing a rural and sometimes urban cultural landscape change. Over the past decade, several wineries and vineyards have opened. Despite Oklahoma's often fickle weather and the state's antiquated liquor laws, a unique wine culture has emerged. After conducting extensive field research at over 30 of the 55 registered wineries from 2006 to 2010 and archival research of various sources, I found it evident that these businesses and the citizens and visitors who support this industry have made an impress in state politics, on local and statewide economies, and on Oklahoma's cultural landscape.