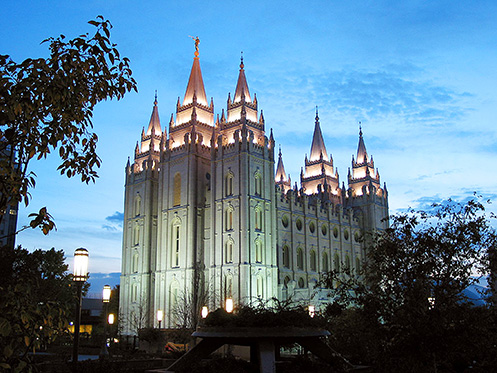 Manti Temple
Planes, Trains and Automobiles ...
A Guide for Traveling to Salt Lake
City, Utah
Hotels
The conference hotel is the Homewood Suites Salt Lake City-Downtown, 423 W. Broadway (300 South), Salt Lake City, Utah 84101. (Access their website here.) Rooms at the Homewood Suites Salt Lake City-Downtown can be reserved for $129/single bed (king) and $149 for two double beds; these rates are good through September 18, 2017. The hotel is directly across the street from historic Rio Grande Depot Building (300 S. Rio Grande Street) — the paper sessions venue — and within walking distance of the reception and awards banquet venues. Please call (801) 363-6700 to make reservations under the ISLPMC block of rooms, or make a reservation online here.

There are several other hotels/motels within a few blocks of the conference hotel and other conference venues. Rates vary, but will typically be more expensive.
Parking for those not staying at the Homewood Suites
The parking at the Homewood Suites is an underground garage, the rate is $10/day. In addition, there is limited on-street parking in the vicinity of the hotel during the day, but parking is not permitted overnight. The historic Rio Grande Depot building, where the paper sessions will be held on Friday, has a parking lot you may wish to utilize. Other parking options can be found here.
Planes
The Salt Lake City International Airport is a Delta hub, and most of the major airlines service Salt Lake City. The airport is a short 7 miles away from the Homewood Suites. A taxi ride to the hotel averages $25.

Light rail service is provided by Utah Transit Authority (UTA) TRAX Green Line, which leaves the airport every 15 minutes on weekdays and every 20 minutes on weekends. The TRAX stop is located at the south end of Terminal One. You will need to transfer to the TRAX Blue Line that takes you to the Salt Lake Central Station/Intermodal Hub (which also services Amtrak and Greyhound). This is just a block west of the conference hotel. However, you will have to pass through the Rio Grande building to get to the hotel and it closes at 5:00 PM weekdays. One-way fare for the light rail is $2.50.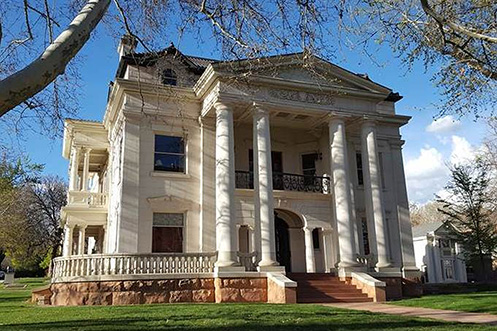 Keith Mansion
Trains
The Amtrak California Zephyr line services Salt Lake City through the Salt Lake Station at 340 South 600 West. The Amtrak station is part of the Salt Lake Intermodal Hub, where local commuter rail, light rail (Blue Line), local bus and Greyhound all have connections. Exact schedules can be found at the Amtrak website.
Automobiles
Salt Lake City is directly serviced by I-15, I-80 and I-84. The conference hotel is easily accessed from I-15 being just a couple of blocks east. Directions to the hotel can be found here.

Again, the daily parking fee at the hotel is $10/guest.
See you in Salt Lake City!