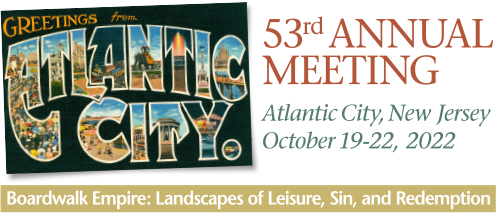 Call for Book Award Nominations
The International Society for Landscape, Place, & Material Culture  (ISLPMC — formerly Pioneer America Society: Association for the Preservation of Artifacts and Landscapes) is proud to issue a call for nominations for the 2022 Fred Kniffen Book Award and the 2022 Allen Noble Book Award.
Best-Authored Book, North American Material Culture
The Fred Kniffen Book Award, established in 1989, is given in honor of the work that Prof. Kniffen completed as a long-time scholar at Louisiana State University. His work was influential, especially in the fields of cultural geography and vernacular architecture, and he is known as the founder of an entire approach to looking at and understanding the landscape. The award recognizes the best-authored book in the field of North American material culture.
Best-Edited Book, International Material Culture
The Allen Noble Book Award, established in 2001, is given in honor of the scholarship in cultural geography that Prof. Noble has completed. The award recognizes the best-edited book in the field of International material culture. As a long-time scholar and professor emeritus of geography and planning at the University of Akron, Professor Noble is recognized for his influential and seminal work.
The awards are intended to honor these two scholars by recognizing outstanding recently published books. The nominated books may address several topics which could include some aspect of material culture, vernacular architecture, contemporary/pop culture, cultural and physical landscapes, cultural geography or extant artifacts.
The ISLPMC encourages your Press to submit books that have been published in the years 2020-2022, and solicits submissions that you believe deserve recognition. (Please, no resubmissions from previous years. All submissions must be printed in English.) Many award-winning books have become classroom texts or significant references for other scholars. We encourage you to submit nominations for both awards.
Please send four copies of your submissions for the book award committee members by June 30, 2022 to the address below. One copy will remain with the Editor for review in the Society's peer-reviewed journal, Material Culture.
 Ellen Hostetter, Ph.D.
 Associate Professor, Norbert O. Schedler Honors College
 University of Central Arkansas
 P.O. Box 5024
 201 Donaghey Avenue
 Conway, AR 72035
The awards will be announced at the ISLPMC Awards Banquet at the annual fall meeting. The winning author(s) and/or editor(s) of the awards will be notified by the Book Awards Committee Chair prior to the meeting and are invited to attend to receive the award in person, if possible. The committee asks that no official announcement be made by the winners or the publishers until after the award has been announced at the Awards Banquet, whether the author(s) and/or editor(s) attend or not.