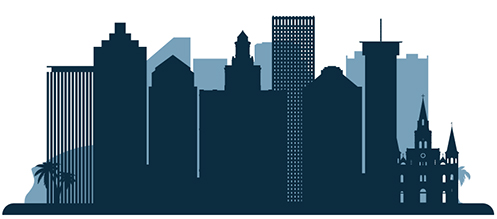 Planes, Trains, and Automobiles
If you don't feel like "Walkin to New Orleans" the way Fats Domino got around the city, you might try a plane to the Louis Armstrong International Airport or listen to Arlo Guthrie and take the "train" they call The City of New Orleans. Yes, you can actually ride this Amtrak line that runs between Chicago and New Orleans or if you are on the East Coast, try the Crescent to New Orleans since New Orleans is also known as the "Crescent City" – especially to us old timers.
From the airport, you can take a shuttle bus, taxi cab or even try an Ubur to your accommodations – still have not used an Ubur in New Orleans but have had good luck in Chicago and Dallas with Ubur!
Need to get around once you are in town? You can walk in some neighborhoods – especially in the French Quarter or in the Garden District (where our Thursday walking tour will be) or a walk in the area close to Tulane University or even in Audubon Park.
Need a map? Scroll down this page from New Orleans and Company for lots of useful maps. You're sure to find everything you may need.
Another mode of transportation in New Orleans is to ride on a National Landmark– the New Orleans Streetcar Line. This St. Charles Streetcar Line is in the middle of St. Charles Ave. and Carrolton Ave, but this area is not known as the median in New Orleans – New Orleans folks call this the neutral ground. A pass to ride this National Landmark is $1.25 for a one-way fare and only $3 per person for a one day - Jazzy Pass. You can purchase them when you hop on the streetcar. Please have the exact cash or change as the streetcar drivers don't have either!!
The St. Charles Ave. line is the oldest operational street railway in the USA. It was listed on the National Register in 1973 and achieved National Landmark status in 2013. Getting around New Orleans by streetcar is a great way to see the city. Besides the St. Charles Ave. line there is a Canal St. streetcar line which travels from the riverside of Canal St. to the cemeteries or City Park, the Riverfront line along the riverside of the French Quarter and the newest line the Rampart/St. Claude Ave. line, mainly used by locals – the backbone of the tourist industry.
Yes, New Orleans has bus transportation, but unfortunately the New Orleans Regional Transit Authority (RTA) is at a tipping point. The RTA has struggled to bring back adequate bus transportation throughout the city. As one member of the City Council's Committee on transportation stated recently, "I don't think the RTA has been responsive to communities."
Please remember that some transportation is being provided with your conference fees. Especially on Thursday evening and Friday morning for the paper sessions.
Thanks,
Gerald McNeill
ISLPMC – New Orleans Conference Chair