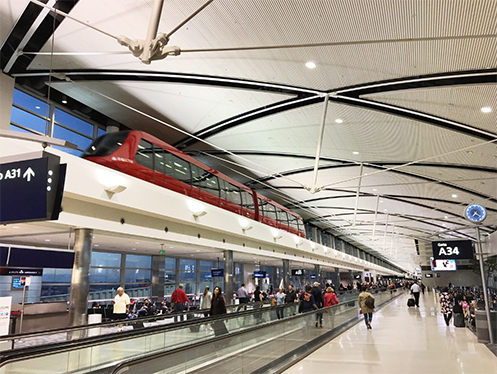 Car
What better way to reach the Motor City than by automobile? Travelling from east or west, Detroit is typically accessed via I-90 or I-94, and I-75 connects cities to the south from Toledo to Cincinnati, Atlanta, and Tampa Bay. However, if you plan ahead and allow a few extra hours, numerous early turnpikes and highways provide an intimate view of the evolving cultural landscapes of the past. For example, U.S.12 connects Chicagoland with Detroit following the old Sauk Trail through southern Michigan, ending just a block from the conference hotel. As described in the latest issue of Material Culture (51:1), the Lincoln Highway (and improvement as U.S. 30) connects the northern states from San Francisco to Philadelphia and New York by way of Pittsburgh and Chicago. In addition, U.S. 40 (National Road), U.S. 250, and U.S. 20 are great historic routes to travel on your way to Detroit, depending on your point of origin. Feel free to contact Dan Bonenberger (dbonenbe@emich.edu) for ideas on how to incorporate historic roads into your journey.
Bus
Megabus has two stops in Detroit, including the Rosa Parks Transit Center, just a couple of blocks of the Ft. Shelby hotel, 1310 Cass Ave, Detroit, MI 48226.
Greyhound arrives at the Detroit Bus Station, 1001 Howard Street, a short walk to the hotel.
Air
Detroit Metro Airport is about 20 miles west of city center near the intersection of I-94 & I-275. It has two terminals: McNamara and North. The former is a major hub for Delta Airlines.
Uber and taxi fares from the airport to the Ft. Shelby hotel range from about $30-$50. Skoot Shuttle service is $23 each way from DTW.
Train
Detroit's Amtrak station at 11 W. Baltimore Street is serviced by regular trains from Chicago, New York City and elsewhere. From the station, it is about a 3 mile ride down Woodward Ave. Take the Q-Line from the Baltimore Street station to Campus Martius ($1.50), followed by a short walk to the hotel.
Getting around Detroit
Downtown Detroit is very walkable and transportation is enhanced by an excellent public transit system, highlighted by the People Mover, a 3-mile loop with 13 stations around the core of the downtown (.75 per trip), including a station near our hotel, and the Q-line which runs 3.3 miles from the Campus Martius Park up Woodward to Grand Avenue ($1.50 one way). See Visit Detroit for more information.