Getting to & around Tulsa
Driving your car to and around Tulsa
A road trip to Tulsa would not be complete without a "Tulsa Sound" playlist of musicians who got their start in this city or sang about it– J. J. Cale, Leon Russell, Steve Ripley (The Tractors), Don Williams, Ronnie Dunn (Brooks & Dunn), Wayman Tisdale, the Hansons, Roy Clark, Garth Brooks, Eugene Bostic, Hal Singer, Charlie Wilson (Gap Band)—the list could go on… For those looking to travel on Historic Route 66 from the east or west, it will get you very close to the hotel once you're in downtown Tulsa. If you're traveling from the north or northeast, Interstate 44 (Will Rogers Turnpike Toll Road), Highway 75, and Highway 169 are easy drives. For those coming from the east, Highway 412, which a portion of is toll road in Oklahoma (unless you take Old Highway 412), will get you here. Those arriving from the south can take Highway 75. And anyone arriving from the west or southwest can take Highway 412, Highway 51, Highway 33 and Route 66, Route 66, or Interstate 44 (Turner Turnpike Toll Road).
Please note that the majority of streets in downtown Tulsa are one-way streets. Traffic flows toward the west on odd numbered streets and toward the east on the evens.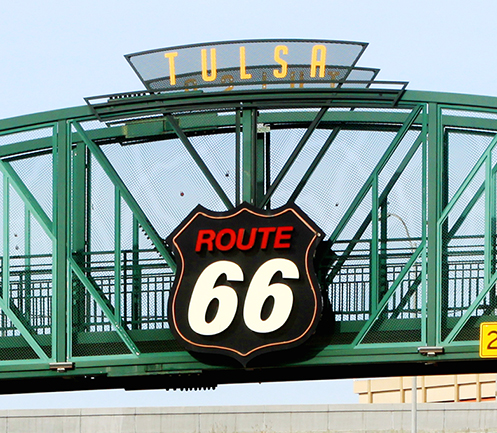 Taking the Bus
Greyhound arrives at the Tulsa Bus Station, 317 South Detroit Avenue, which is just a short walk to the hotel. Tulsa's public transit (buses only) is good from about 6:00 AM until 7:00 PM.
Flying to and from Tulsa
Tulsa International Airport (TUL) is served by most major airlines and is less than 10 miles from the Hotel. Please note that several TUL flights were cut during the pandemic, and as of April 2021, they've not returned.
The hotel has a shuttle that picks up and drops off at the airport. The shuttle is shared between Hotel Indigo and two other sister properties in downtown. More information will be provided as we get closer to the conference, as the shuttle's currently operating on a Covid-19 schedule.
Getting around Tulsa
The hotel's location in downtown Tulsa make most attractions walkable (Woody Guthrie Center, Cain's Ballroom, Tulsa Theatre, etc.), including The Pearl – an up-and-coming district with several of Tulsa's breweries. Public transit (buses only) is good from about 6:00 AM until 7:00 PM.
Most people I know prefer Uber in Tulsa. Lyft, Ola, and Didi are also available.